RAISING AWARENESS
Alcohol industry interference
Empowering Young People: Resisting the lure of the alcohol industry
Webinar
The keynote speaker for the event, Prof. David Jernigan (Boston University) described the agenda of the alcohol industry when it comes to youth alcohol consumption. His presentation was followed by Dr Helen McMonagle (Alcohol Forum Ireland), who addressed the dangers of alcohol consumption in minors from a neurodevelopmental perspective. The webinar also included interventions from representatives of local community groups, operating with the motto 'Acting Locally, Thinking Globally' in mind. Community empowerment is also an important principle of the SAFER/Euro initiative.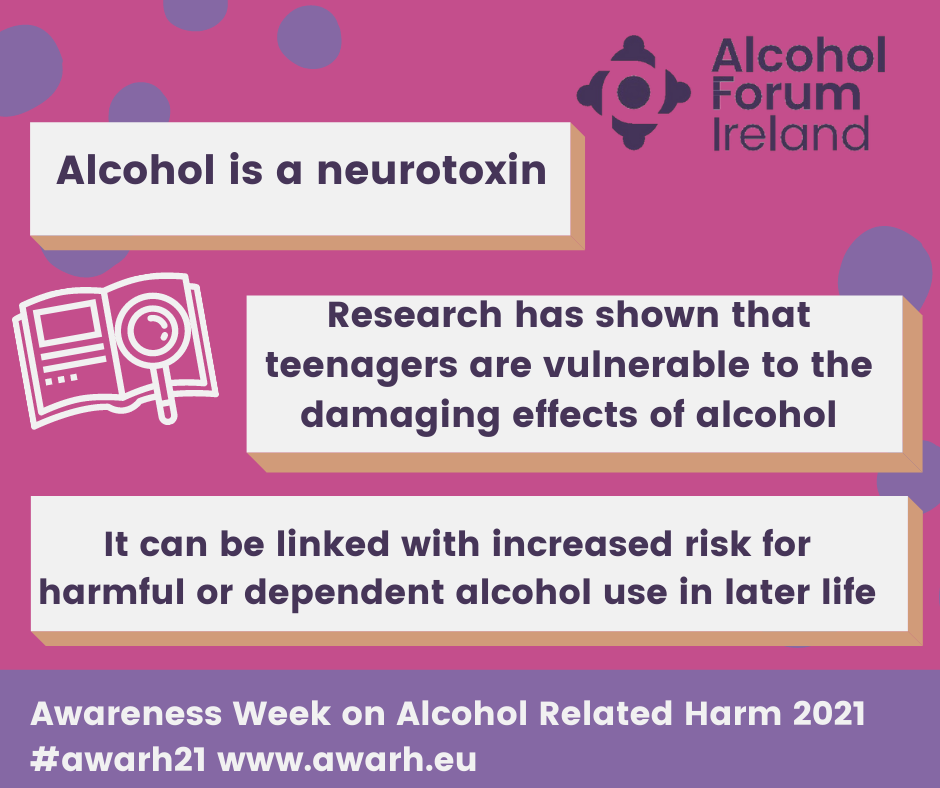 RAISING AWARENESS
Health risks of alcohol consumption
Alcohol's Impact on the Immune System and Brain
Webinar
This webinar aimed to shed a light on how alcohol impacts the brain and the immune system. It has long been known that heavy alcohol use is harmful to the brain and can cause irreversible damage, but there is new research emerging which has shown that alcohol can be harmful even when consumed in low amounts. Concerning trends have also emerged about alcohol use during the COVID-19 pandemic, with some people reporting an increase in both the amount and frequency of consumption. Data have also shown that people are using alcohol to cope with feelings of anxiety, loneliness and isolation. In some countries, the number of alcohol-related deaths is reaching a record high. Alcohol-related and liver disease hospital admissions have also reached record highs.
Prof Cliona O'Farrelly (Trinity College Dublin), one of the speakers at the event, said: "Alcohol weakens our immune system functioning and affects a range of organs, thereby increasing the risk of viral infection, severity, recovery and long-term consequences. Heavy alcohol use increases the risk of acute respiratory distress syndrome (ARDS), one of the most severe complications of COVID-19."
Dr Dara Canon (National University of Ireland Galway) said: "Even low levels [of alcohol consumption] are showing a negative effect on brain health looking at MRI scans of the brain. This is relevant to healthy people and young people and will affect many parts of the quality of our lives and relationships over time."
Dr Aisling Sheehan (HSE Alcohol and Mental Health and Wellbeing Programmes) said: "During AWARH, we encourage everyone to have a conversation about alcohol, its impact on our health, and how public health measures like restricting alcohol advertising and minimum unit pricing can save lives and reduce alcohol-related diseases and injuries in Ireland."
Measures which restrict alcohol advertising and minimum unit pricing (MUP) are two important policy actions described in the WHO SAFER initiative. In January 2022, the Irish Government introduced MUP as part of the Public Health (Alcohol) Act 2018. Previous data by the Sheffield Alcohol Research Group predicted that the introduction of MUP in Ireland would reduce overall consumption of alcohol by almost 9%.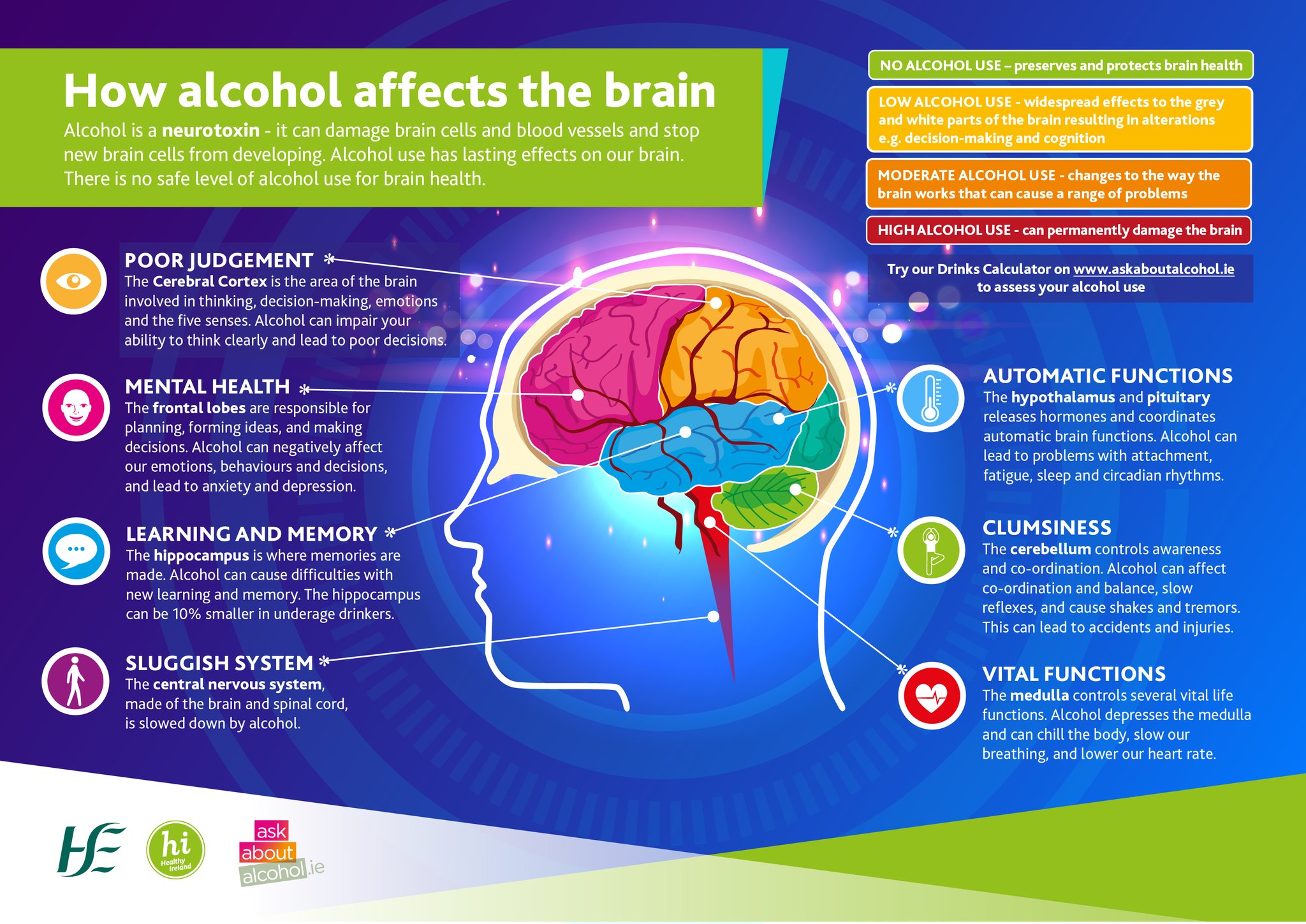 RAISING AWARENESS
The need to protect young people
Young People Impacted by Substance Use in the Home
The webinar was part of a series of online events organized during the AWARH by WRDATF which aimed to engage young people on alcohol and drug-related issues. The two speakers for the event, Niall Muldoon from OCO and Eunan McKinney from Alcohol Action Ireland, addressed the complex issue of substance use in the home and its impact on children.
This work is consistent with the campaign 'End The Silence' Alcohol Action Ireland released around the time of the AWARH 2021. The campaign aims to raise awareness on the issue of growing up in a home affected by alcohol harm, an issue that is too often covered up because of stigma and other societal reasons.
RAISING AWARENESS
The need to protect young people
Public polling on the perception of alcohol marketing targeting children
The results from the public polling conducted by Ireland Thinks and published by Alcohol Action Ireland during AWARH showed a strong public support for the regulation of alcohol advertising. In more detail:
- 70% back stopping alcohol adverts from being shown on TV before 9pm.
- 68% back restrictions to limit what alcohol advertising children see and hear.
- 66% back stopping alcohol adverts from being streamed on social media channels.
Despite the measures enacted by the Public Health (Alcohol) Act 2018, legal actions to restrict alcohol marketing have not been not fully implemented, consequently leaving young children and vulnerable populations exposed to alcohol marketing both on traditional and digital platforms.
Exploring Community Alcohol Detox
Webinar
The 'Community Alcohol Detox' project is a strategic regional response in Ireland, covering four Local Drug and Alcohol Task Force areas. These comprise representatives of various agencies operating to implement the national alcohol strategy at a local level, according to the community's specific needs. Going forward, the project aims to develop a manual which outlines best practice protocols to follow, to create set referral pathways and partnerships with all relevant stakeholders, and to develop workshops.
The topics discussed by this webinar, aimed particularly at service providers, GPs, and health professionals were the following:
1) Presentation of the role of the 'Community Alcohol Detox' project in tackling the burden of harmful alcohol consumption;
2) Barriers to service users, such as stigma and lack of awareness about available services;
3) Actions to be taken to improve the service and its impact, including input from service users.
Alcohol Marketing Research and Policy in Ireland
Webinar
The webinar presented an update on the recently introduced Public Health (Alcohol) Act 2018 and its implications (Dr Pat Kenny, Technological University Dublin). The Act currently establishes a ban on alcohol advertising unless the advertisement includes the following warnings:
- a warning that is intended to inform the public of the danger of alcohol consumption;
- a warning that is intended to inform the public of the danger of alcohol consumption when pregnant;
- a warning that is intended to inform the public of the direct link between alcohol and fatal cancers;
- details of a website providing public health information in relation to alcohol consumption (https://askaboutalcohol.ie).
Changes in alcohol marketing awareness one year after the Public Health (Alcohol) Act 2018 initial implementation and during the COVID-19 pandemic were discussed (Dr Nathan Critchlow, University of Stirling). Data showed a decrease in self-reported alcohol marketing awareness in locations such as cinemas, posters/billboards, and public transport (1). However, caution is needed in the interpretation of these results, as both advertising controls and the pandemic might have played a role.
Vania Filipova (Technological University Dublin) presented the evidence on the impact of graphic health warnings in alcohol ads. Parameters measured by her research were: recall, negative emotions provoked, believability, perceived risks, knowledge of alcohol risks.
There was a control group, and then 3 experimental groups which were exposed to either:
1) single text health warnings;
2) graphic and text health warnings;
3) multiple-text health warnings.
Single text followed by graphic and text (cancer) health warnings caused the highest impact on negative emotions generation, but they were the least effective when it comes to believability. Multiple-text warnings were more believable than single-text (cancer) warnings, with and without graphic imagery. Finally, graphic and text warnings performed best in terms of recall. Thus, a combination of designs and possibly message rotation have the potential to produce the best results and avoid desensitisation.
Finally, Dr Richard Purves (University of Stirling) discussed his findings on alcohol marketing during the 2020 Six Nations, which are published in this report. The codebook used to analyze alcohol marketing messages captured the following: the total number, frequency and duration of the messages, whether in play or out-of-play, location and format, brands, content (e.g. logos, alibi marketing, …), and responsibility messages or health warnings. The match with the highest number of references contained an average amount of 5.1 references per minute.
(1)Article